If you're looking to learn more about Blimpie, our history, and what we have to offer our franchisees, you're in the right place. Having been in business since 1964, Blimpie has a rich history as one of America's best-known and loved sandwich shops. We're looking for enthusiastic franchisees to continue the Blimpie legacy in their own communities. Read on to learn more about what makes our brand unique.
In 1964, three Jersey City teenagers decided to pool their resources and go into business together. They sought to create a sandwich that stood out from the hoagies and subs that were popular in the area. While trying to decide on a name, they realized that their bigger, better sandwiches closely resembled blimps. With that inspiration, Blimpie was born. Since then, we've expanded our brand worldwide and have been delighting customers everywhere with our large portion sizes and fresh ingredients. While we started out as a simple sandwich shop, Blimpie now offers a wide range of selections including wraps and salads to satisfy customers of any taste. Part of our longevity can be attributed to our dedication to researching trends in the food industry, so our franchisees are always able to offer their customers something new along with their old favorites.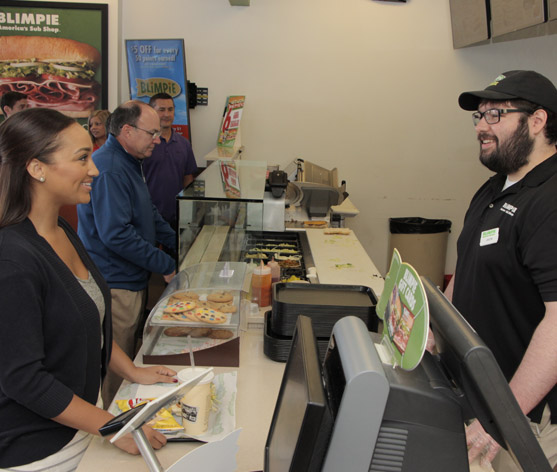 A Great Opportunity for Industry Newcomers
Our founders didn't have much business experience, but they knew that they wanted to build their own restaurant. Similarly, today's Blimpie franchisee doesn't need to have experience opening and operating their own business. One of the best things about Blimpie franchises is the comprehensive support we offer our franchisees. Having spent decades in the industry, we've gotten the process of opening and operating a Blimpie franchise down to a science. Our franchisees work closely with our team from the moment they sign their franchise agreement and rely on our expert guidance to get their restaurant up and running. If you're looking to start a new business, don't let your lack of experience hold you back!
Now is a great time to invest in a Blimpie franchise for a number of reasons. Not only is the sub sandwich industry doing well, we're rolling out a whole new look! We've updated our logo and are in the process of updating our restaurants as well. A bright new color scheme highlights the freshness of our menu, and we're about to implement state-of-the-art technology that will make it easier than ever for franchisees to make sales and accurately keep track of inventory. Customers new and old are already taking notice of our new look, drawing attention to the Blimpie brand.
We're Dedicated to Our Franchisees
One of the most important things you should know about Blimpie is that we're dedicated to helping our franchisees build strong businesses. While no new business comes with a guarantee of success, our experts can guide our franchisees through the process of opening and operating their new business – helping franchisees to avoid many of the pitfalls faced by independent owners. Our time-tested business model has been carefully refined over decades and allows our franchisees to run their restaurants with maximum efficiency. Furthermore, we've developed strong relationships with a number of third parties (like vendors and real estate experts) who can help our franchisees get great prices on the things they need to run their business. Our expertise and connections in the industry are just two of the valuable resources Blimpie offers our franchisees to help them start their business off right.
Please complete the following form to receive more information about franchising.
If you live outside U.S., please contact our International Team for more information.
Interested in joining the team at your local Blimpie? See the Employment page to learn how to apply.