If you're looking to find the perfect sandwich shop opportunity, you already know that you have a lot of choices. Sandwich shops like ours have been growing in popularity, and there's never been a better time to break into our industry. With so many brands to choose from, why franchise with Blimpie? We can think of a number of great reasons – check them out here!
A TIME-TESTED BUSINESS MODEL AND BELOVED BRAND
Blimpie is one of the oldest sub shops around. Established in 1964, we pioneered the concept of making sandwiches fresh, in front of our customers, customized to their unique tastes. This concept helped the Blimpie brand to achieve growth, leading us to become one of the most recognizable sandwich brands in the U.S.! However, it's not just our great sandwiches that make us an excellent sandwich shop opportunity: Blimpie franchises operate on a standardized business model that makes it easier than ever to keep things running smoothly. With more than 50 years of experience, we've refined the process of opening a new restaurant down to a science, helping our franchisees to open and operate their new businesses as efficiently as possible.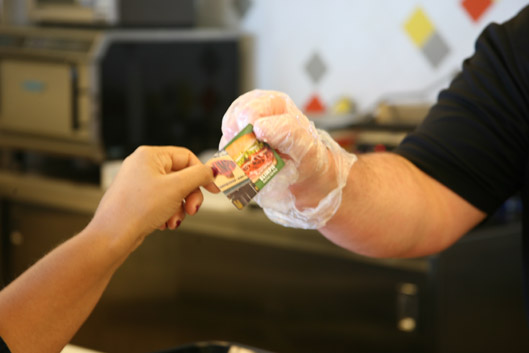 Traditional Blimpie franchises have been outfitted with cutting-edge technology that makes it easier than ever for franchisees to keep things running smoothly. Franchisees can produce work schedules, track payroll, set reminders, and are able to accept a variety of traditional and digital wallet payment options. Furthermore, franchisees are able to keep records much more efficiently, and can access a number of reports through our integrated system. While Blimpie franchises have been around since 1964, we're not afraid of change! We're always looking for more ways to utilize technology to improve our business model.
Valuable Marketing Assistance
For Blimpie franchise owners, our brand name in itself is a valuable form of marketing. We've served countless customers across the U.S., and many people already know that Blimpie is a great destination for a meal on-the-go. Franchisees can look forward to capitalizing on our brand name, as well as receiving some marketing support from our team.
One of the best parts of working with a franchise as well-established as ours is that we've already developed a cache of marketing materials. Blimpie franchisees don't need to worry about starting from scratch, they're able to customize many of our materials to spread the word about their new restaurants. Furthermore, we provide our franchisees with guidance when it comes to implementing their targeted marketing campaigns, helping them most effectively reach their target customers.
Blimpie also offers Text Club, Gift Cards, Seasonal promotions, 3rd party delivery and catering – all additional ways to boost your business!
Blimpie's leadership team has decades of experience opening new franchises. We've learned a thing or two about how to help our franchisees thrive, and we know that their success means growth for our brand overall. We support our franchisees in a number of ways, from helping them learn the ropes of our business model to providing guidance as they find the perfect location for their new restaurant. Of course, the support doesn't end after your grand opening: Blimpie has developed a number of resources that help you keep your business running smoothly and allow you to access the information you need. Best of all, we're available via phone and email to answer questions when they arise. If you're trying to find the right sandwich shop franchise opportunity but don't want to go it alone, Blimpie has the initial and ongoing support you need.
Please complete the following form to receive more information about franchising.
If you live outside U.S., please contact our International Team for more information.
Interested in joining the team at your local Blimpie? See the Employment page to learn how to apply.